QAÏTO BBQ Camping
QAITO

CD 0800 OV
New
2 years
Paypal, Voucher, Transfer
QAÏTO Camping is the nomadic version of QAÏTO.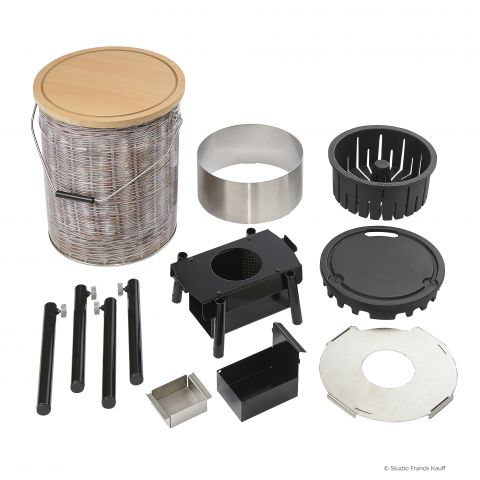 Enjoy your QAÏTO … OUTDOOR ! Heat, light and cook with your QAÏTO Camping !
QAÏTO Camping is the nomadic version of QAÏTO.
IDEAL for fishermen !!!
https://youtu.be/NYPUVSW0K9s
Intended for all people who enjoy outdoor activities, QAÏTO Camping is both a brazier and a girddle for a barbecue that works with wood pellets.

QAÏTO Camping can be set up in 1 min. Once assembled, you put pellets in the cast iron burner and you light with a 100% natural FTB QAÏTO fire starter.

In less than 5 minutes, you have beautiful flames that allow you to use QAÏTO Camping as a brazier to warm up or to share the pleasure of a campfire in complete safety.

At coffee time, put the enameled cast iron griddle over the burner. Then place a waterpan or your Italian coffee maker (in stainless steel) on the edge of the griddle and make your coffee (5 mn).

At lunchtime, put a little wood pellets back in the bottom of the burner (half capacity of the burner) and place your meat, sausages, fish or vegetables on the plancha.

This will give you a hot and delicious meal very quickly.

Tip:

BEFORE starting the fire, pour a few wood chips impregnated with natural wax on the pellets, then take a QAÏTO fire starter bag to light your mass of pellets safely. In 1 minute, the fire starts.

The pellets will quickly make beautiful bright flames.
Similar products